Santorini vineyards
Are you looking for information about the vineyards of Santorini?
And would you like to know more about this tradition?
In fact, in Santorini, the cultivation of the vine and the production of wine is an integral part of life on the island.
So find all the information on the vineyards of Santorini in the Cyclades in Greece.
Vine growing in Santorini
Known for its local grape varieties, the cultivation of vines is a tradition in Santorini. And the landscapes of the interior of the island quickly remind us that Santorini is a wine country … Take advantage of your visit to discover high quality wines!
A little history
The cultivation of the vine and the production of wines in Santorini is a tradition that dates back over 3500 years. The volcanic eruption (1600 BC) made the soil very rich, volcanic in nature (pumice, limestone, shale). This is also what preserved the phylloxera vines since the soil contains very little clay.
A suitable culture
The climatic conditions and the richness of the volcanic soil allow the cultivation of grape varieties unique in the world. If rains are infrequent on the island, sea mists water the soil overnight. The extended summer period and strong winds do the rest. The cultivation techniques are adapted to the conditions: the vines are thus treated in a low form, very close to the ground.
The Kouloura method
Here, the winemakers use the Koulara method. This method involves winding the vine branches, which then grow on the ground like a nest or a basket. This technique helps retain moisture at night and protects the vines from the heat and wind during the day.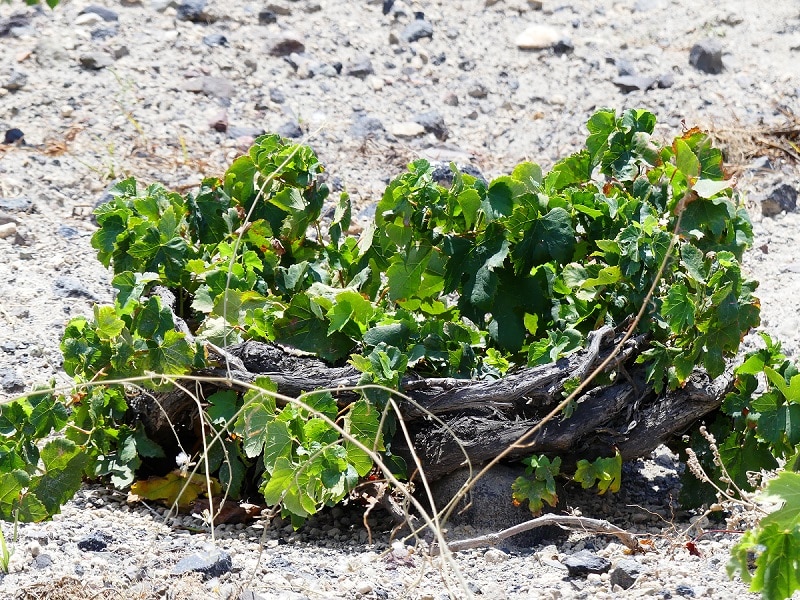 The vineyards of Santorini
Find the list of Santorini vineyards!
The vineyards of Santorini are :
– Art Space Santorini (Exo Gonia)
– Estate Argyros (Kamari)
– Gavalas (Megalochori)
– Koutsoyannopoulos Wine Museum (Vothonas)
– Santo Winery (Pyrgos)
– Sigalas (Oia)
– Venetsanos Winery (Megalochori)…
Vineyard photos
Want to discover the Santorini vineyards?
Here are some photos…